Baymeadows Movers A Jacksonville, FL Moving Company
Family Owned • Family Operated • Family First

The Leading Moving Company in Jacksonville, FL, and the Surrounding Areas
At the start, Baymeadows Movers began with just one truck, three men, and one 200 square foot storage unit. Our moving company experienced rapid growth over the first year acquiring a second truck, three additional movers, and 5,000 square feet of storage space. Today Baymeadows Movers has expanded to 15 trucks, a staff of nearly 50 employees, and storage space that spans 36,000 square feet on 6.5 acres of property. Our crew is capable of handling 10 to 12 residential and commercial jobs per day. Most of the current warehouse space is consumed by household property and commercial items such as filing cabinets, golf carts, desks, sofas, cubicles, and even a few safari animals (yes, really!).
Baymeadows Movers is a family owned and operated moving and storage company located in Jacksonville, FL since 1996. We specialize in both local and long distance moves, as well as corporate relocations and storage logistics. We pride ourselves on our "Baymeadows Blue experience" meaning that we go the extra mile for every client, laying out our signature "blue carpet" from the front door down to the end of the drive. We also utilize ramps, blanket wraps, wooden steps, and packing services to efficiently protect every product we touch.
Baymeadows Movers has been providing local residents and businesses with professional moving and storage services since 1996. We also function as an interstate agent for North American Van Lines which provides us with international moving and storage resources, allowing us to help transport clients wherever they need to go. Baymeadows Movers is also JSEB (Jacksonville Small & Emerging Businesses) Ceritified.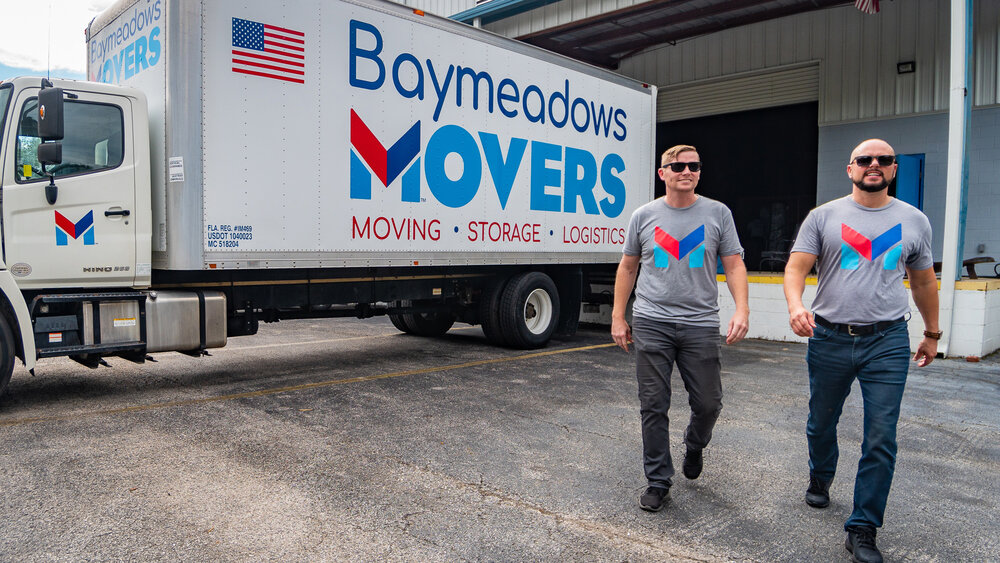 Brothers Michael and Chris McCreary manage the moving company with one defining mindset "show up on time, have a good attitude, and do your best". This mentality has guided them throughout their life, growing up working alongside their father at the family business for as long as they can remember.
Starting with the fundamentals of working on the truck and helping with office work, both brothers have seen how every role comes together to make their business successful. They understand the needs of the moving and logistics industry, and are thrilled to help out clients with their hands on, family-focused approach. They know it's not a solo effort to run a business, though! Both Michael and Chris give all the credit to their team of hard workers. Their energy and focus drive their crew every day to be the best they can be. Ask any previous client, and they'll say the same! No other crew has as much energy, and it's thanks to the values instilled by their parents, Mike and Linda McCreary.
Northeast Florida • Jacksonville • St. Augustine • Nocatee • Orange Park • Jacksonville Beach • Atlantic Beach • Neptune Beach • Ponte Vedra Beach • St. Augustine Beach •  Callahan • Green Cove Springs • Fleming Island • Amelia Island • Fernandina Beach
Turning Moving Day into Moving Yay™